Discover more from MOTHERLAND Blog
At MOTHERLAND Blog we publish regular updates and insides into our work in Africa and our vision of regenerative development in low income countries.
Over 1,000 subscribers
How Much Can We Give for All We Get? Motherland's Holistic Approach to Empowering African Farmers and Youth.
Motherland's mission is deeply rooted in a fundamental question - how much can we give for all we get? This question is at the core of all our activities as we are intrinsically dedicated to serving the people and all other living organisms we work with and walk upon. We believe that community and our missions' prosperity are closely entwined and that we all benefit when we support each other, listen to each other, and support all children of all species for all time.
Over the last two weeks, we have experienced a tremendous breakthrough in our approach to holistically solving challenges in the post-harvest value chain of sweet potatoes with the African farmers and startups we work with. We are thrilled to soon harvest 250,000kg of previously untapped potential in the sweet potato value chain from 266 farmers in Siaya County. By onboarding four different Kenyan startups DUHQA, eProd Solutions, M-Shamba, and KOAN we are empowering the farmers to not only increase their revenue by 25% during our pilot period until July 2023 but also infuse knowledge and expertise around regenerative practices from seed to consumer.
At MOTHERLAND, we have a clear vision of our future business model centered around our role as a super agent. We recognize that startups in Africa often face significant resource constraints that hinder their ability to effectively deliver their services and products in rural areas. To address this challenge, we position ourselves as a super agent to ease the startups' resource constraints and be their implementation partner for all their services and products in rural areas.
This approach allows us to create a more efficient and effective value chain by connecting startups with rural communities and ensuring their products and services reach the intended beneficiaries. As a super agent, we can leverage our existing relationships with farmers, community leaders, and other stakeholders to ensure that startups have access to the resources they need to succeed.
Furthermore, this model aligns with our community empowerment and sustainability core values. By partnering with startups that share our values and positively impact the community, we can ensure that our activities align with our mission to serve the people and all other living organisms we work with and walk upon.
We are confident that our super agent model will be a key driver of our success in the future. As we expand our operations and build new partnerships, we remain committed to supporting startups and African rural communities and empowering them to create a more prosperous and sustainable future for all.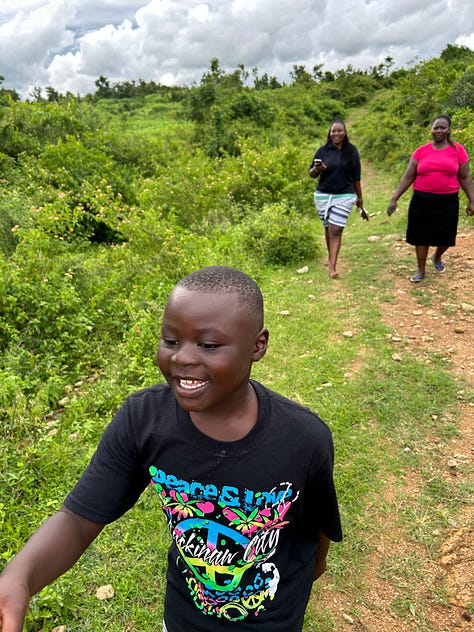 As we build a family here in Siaya and beyond, we must work with children and youth to share our educative program around soil health and the power of regenerative agriculture. We recognize the "Youth Erosion" - the alarming disinterest among African youths in agriculture. Given that over 61 percent of Africa's population is under 25 years old and the average farmer over 60, this disinterest poses severe threats to future food security and poverty reduction efforts. Thus, we are committed to building an inter-generational bridge between the young and older people in the MOTHERLAND ecosystem. We are developing an educational program that teaches children and young people about the benefits of regenerative agriculture, the importance of biodiversity, and the impact of climate change on food systems. By instilling these values in the younger generation, we hope to create a culture of sustainability that will benefit future generations.
Our work is not without challenges, and we recognize that much work must be done to create a more sustainable and equitable food system. However, we are committed to our mission and believe working with farmers, youth, and other stakeholders can create a good future for all.
As we continue our efforts, we invite you to join us on our mission for a regenerative future by supporting our work. Your support can help us expand our reach, provide more farmers with the tools they need to transition to regenerative agriculture and inspire more young people to become stewards of the environment.
Join us on our mission for a regenerative future by supporting our efforts to empower smallholder farmers and youth in Africa. Together, we can build a prosperous and sustainable future for all.
If you would like to learn more about our mission, please don't hesitate to contact us. We would be more than happy to provide you with additional information.